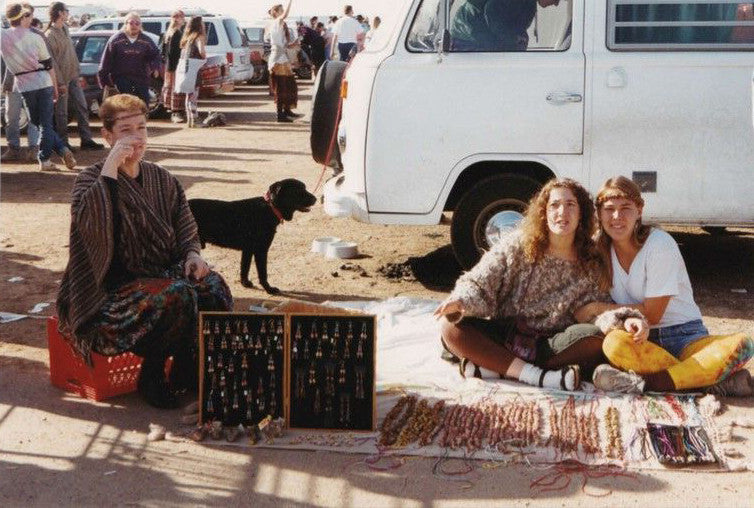 As a child I spent most of my time on my floor, creating. A trip to the local bead shop, or haberdashery shop was  sheer joy. I remember a family holiday to Venice, we stumbled upon an Italian market full of magical things.  We explored the many alleys and stalls, I found a little packet of tiny multicolour glass seed beads and that was it - I fell head over heels in love!
It all started very early on in my life. I was making personalised name bracelets for my friends and family, who I really consider to be my first clients. I had a dozen or more orders a week and was very content with creating.  My father being the forward thinking business man he was, had an idea!  He knew some of the buyers in New York in department stores such as Bloomingdales and Macy's. Unbeknown to me he decided to take some of my designs to his contacts.  My creations were a hit with the department stores and the first order placed was over 1,000 units.  As a 10 year old that was an unbelievable feeling. However, after the initial excitement reality hit me.... how would I ever be able to make thousands of bracelets myself?
My father, in his resourceful manner, set up a small factory to reproduce my designs.  We hired 6 lovely women to help complete the orders and together we made it happen.  That was the start of my business, a 10 year old with a rich imagination and a love for making jewellery and creating. The feeling that something I loved to do could turn into my job and livelihood was incredible and once I started, I never stopped.
 Fast forward 10 years later, I was still committed to my passion of designing and making jewellery. The image below is my mum my best friend and myself at a Greatful Dead concert in Northern California.  This was one of the many platforms I used to sell my creations to the public. I was selling hundreds of headbands, crystal necklaces and earrings and nothing made me happier than seeing the joy my creativity brought to the people around me.
 I've been in this business for over 20 years and and even now, when I see someone wearing a necklace or bangle that Jamie London created, I still share their delight and I feel that I've designed something that will become a much loved, precious possession. I will never grow tired of seeing my jewellery come to life, especially when it's being worn by someone who really cherishes it.  That is exactly why I love doing what I do.
Jamie xx